10.

Baha'í gardens, Haifa
The Baha'i gardens in Haifa must be one of the most beautiful gardens in the world and can be seen from almost anywhere in the area. They are a memorial to the founders of the Baha'i Faith. Also known at the "hanging gardens", they span along a broad

staircase

of 19 terraces with around 1,700 stairs that extend up the northern slope of Mount Carmel. The central terrace houses the gold-domed Shrine. The gardens are a UNESCO World Heritage site and one of the

most visited attractions in Israel
9.

Sanssouci, Potsdam, Germany
Sanssouci was the summer palace of Frederick the Great, King of Prussia. The palace was built in the years 1745 and 1747, and it is famous for the beautiful garden and the stairway of 132 steps leading up to the palace itself
8.

Sigiriya, Sri Lanka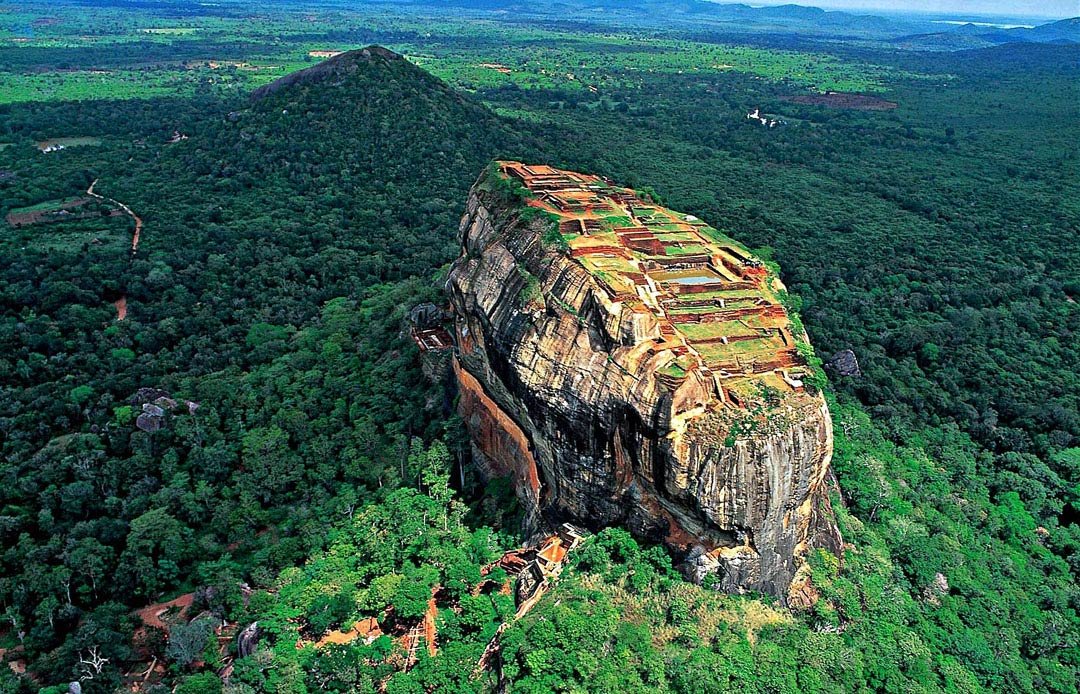 Sigiriya, or Lion Rock is a massive column of rock almost 200 meters high. A palace for the king was built on the top of this rock, and later it was used as a Buddhist monastery until the 14th century. Today Sigiriya is a UNESCO world heritage site and is the
most visited historic site in Sri Lanka. Visitors can climb up the long stairway to the top of the huge rock
7.

Haʻikū

Stairs, Hawaii, United States
The Haiku Stairs, Haiku Ladder, or the Stairway to Heaven is a very steep hiking trail / stairway located on the island of Oʻahu. The trail to the top contains 3,922
steps
! The trail was closed to the public in 1987 but some hikers ignore the warning signs and continue to climb
6.

Rue Foyatier stairway to Montmartre,
Paris, France
Montmarte and the Sacre-Coeur basilica which is located on its top, are among

the most famous attractions in Paris

. To reach the summit of Montmarte you can either use the Montmartre funicular which will take you to the summit in under 90 seconds, or just walk up the 300 steps of Rue Foyatier, which runs along the railway of the funicular. The view of Paris from the summit of Montmarte is breathtaking
5.

Hyakudanen Garden, Awaji Island, Japan
The wonderful Hyakudanen garden is part of Awaji Yumebutai hotel and resort. The garden is a terraced flower bed with long cascading stairways that lead visitors onto 100 different flower platforms and offer beautiful view of Osaka Bay
4.

Moro Rock at Giant Sequoia National Park, California, United States
Moro Rock is a huge granite dome rock in the Sequoia National Park. The first
stairway
leading to the summit was made of wood and installed in 1917. It was replaced in 1931 by the current stairway. The 797 ft (242 meters) stairway includes 400 steps that lead right to the summit of the rock. The view from the summit encompasses much of the beautiful park and is most definitely worth the climb!
3.

Potemkin Stairs, Odessa, Ukraine
These 192 stairs represent the entrance to the city from the sea. They are the most famous symbol of Odessa and the current
stairs
were built in the years 1837-1841. This famous
staircase
was originally known as the Boulevard steps, the Giant Staircase and the Richelieu steps. Originally 200 steps, 8 of them were lost under the sand when the port was being extended, reducing the current number of stairs to exactly 19
2.

Gaztelugatxe Island Church, Spain
The small and beautiful island of Gaztelugatxe is connected to the mainland by a long man made stone bridge. At the top of the small island there is a chapel, and to get to the chapel from the mainland you have to climb the
stone staircase
called the Stairs Above The Sea. The staircase is made of some 230 steps, but it is said that the climb is worth the effort
1.

The

Spanish Steps, Rome, Italy
The Spanish

steps

are a set of 135 steps in Rome, climbing a steep slope between the Piazza di Spagna at the base and Piazza Trinità dei Monti at the top, where the Trinità dei Monti church is located. This is the widest staircase in Europe and it was built during the years 1723–1725. The Spanish steps are one of

Rome's most famous attractions