10.

Stuart Weitzman Diamond Dream Stilettos
- $ 5, 00,000
When the article is about the shoe world, was it possible that one of the empires shall stay away? Stuart Weitzman is very much the unannounced ruler of the shoe world. When we write about shoes, we write about Weitzman. This shoe is handcrafted with about 1,500 30 karat diamonds. No wonder, they shout for attention all over. You think you would need to accessorize at all when you wear this beautiful piece? What would be the need anyway? People will be too busy staring at your feet to shift their glance anywhere else. You can lay your hands on a pair of these for $ 5, 00, 000. After all, diamonds are a woman's best friend!
9.

Original 'Wizard of Oz' Ruby Slippers
- $ 6,12,000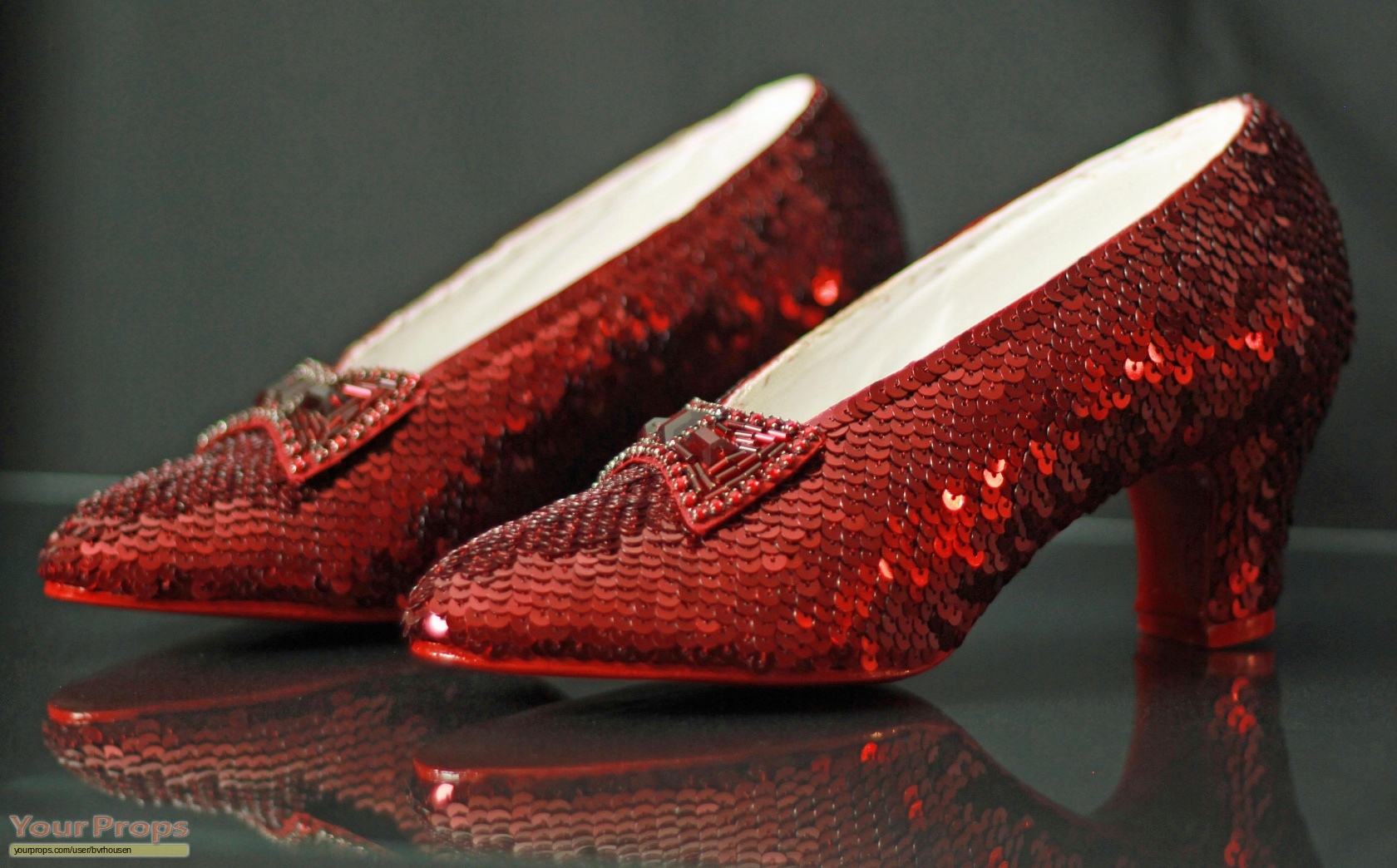 Remember those delicate pair of red slippers Dorothy was sporting in Wizard of Oz? Another dream shoe, undoubtedly. The amazing fact about this shoe is that there are only three original pieces left, one of which was sold off at an auction for $6,12,000. The two pieces are still remaining, one of which is showcased in a Washington D.C museum. I particularly remember, as a kid after watching this classic movie, I so badly wanted to have this pair of red magic shoes and since then for a long time, everything I bought had to be red in colour. All you girls out there who were equally mesmerized by these shoes, at least have a look when you plan to visit Washington.
8.

Stuart Weitzman Marilyn Monroe Shoes
- $ 1 million
Anything related with this timeless beauty has to be classic, isn't it? Now, wondering why did Weitzman name these after Marilyn Monroe herself? Well, this shoe which is tremendous hard work and delicate craftsmanship of crystals all through it is actually adorned with crystals that this great actress once used to wear. This shoe was first worn at the 2005 Oscars by Regina King. No wonder this shoe had to fetch the whopping amount of $ 1 million when it was auctioned off after grabbing eyeballs at the Oscars.
7.

Stuart Weitzman Retro Rose Pumps
- $1 million
Yet another Stuart Weitzman creation. This shoe reminds us of the Hollywood of Black and White era where T-straps were embraced with grace. The specialty of these golden pumps is that big golden rose at the centre which is the secret behind the name. These roses are made of 1,800 diamonds that lends the grace to it. The entire body of the shoe contains 400 more diamonds. I wonder how on earth could Cody Diablo reject the offer of wearing these pumps. These are too pretty to be refused.
6.

Stuart Weitzman Platinum Guild Stilettos
- $ 1.09 million
This truly is a masterpiece, which is beautifully decorated with 464 diamonds throughout the body. But the surprise factor which makes you go 'wow' is the fact that these straps which adorn the shoe can be removed and worn as necklace. Now who on earth does not want cost effectiveness in their large scale investments? These pencil heels were unveiled at the 2002 Oscars and has been every woman's envy since then.
5.

Stuart Weitzman Ruby Stilettos
- $ 1.6 million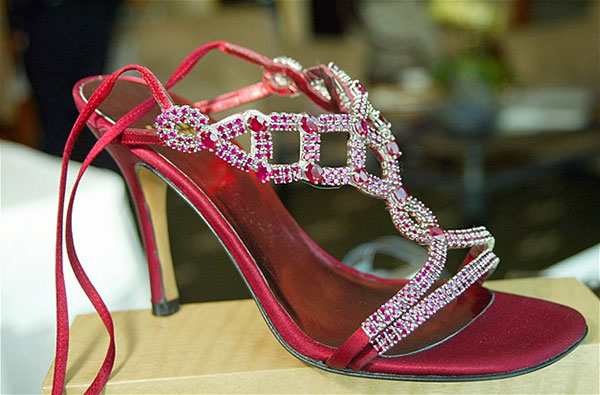 This one, too, was inspired by the 'Wizard of Oz' shoes and is one of the prettiest shoes in this list. Made of 643 pieces of 123 karat rubies and a pound of platinum, this stiletto just looks perfect for that dinner date with your partner. This shoe lives up to the expectations from Stuart Weitzman who is famous for encrusting his shoes with beautiful and rare gems.
4.

Stuart Weitzman Tanzanite Heels
- $ 2 million
Stuart Weitzman just refuses to get off this list. This particular shoe deserves this position quite well because when Stuart Weitzman and Eddie Le Vian collaborate to create something, it has to be out of the world. And something created out of tanzanite does not have any other option than looking beautiful, isn't it? Just the delicate straps of the pumps boast of 28 carat diamonds and 185 karat tanzanite gems. Wait, the beauty does not end here, girls. All these are set in shining silver, which makes these pumps even more desirable.
3.

Stuart Weitzman Cinderella Slippers
- $ 2 million
How could the master of shoe snot create something as beautiful as a fairy tale? These stilettos were created with finest Italian leather and decorated with as many as 565 Kwiat diamonds all set in platinum. Those delicate laces boast one of the rarest diamonds in the world- the amaretto diamond, which alone costs more than a million dollar. This pump was created to pay a tribute to everyone's beloved Cinderella, hence the name. Now this is what we call a dream come true, girls.
2.

Stuart Weitzman Rita Hayworth Heels

- $ 3 million
1.

Harry Winston Ruby Slippers
- $ 3 million
As we come to the end of this list, the last shoe is expected to be a bang. And so does it deliver! This pair is actually the official replica of the pair of red magic shoes of Dorothy of Wizard of Oz. but his one had to be different from all its contemporaries and competitors. It boasts of total 4,600 pieces of rubies and worth 50 carats of diamonds and was made on the honorable occasion of the 50
th
anniversary of the cult movie. This shoe took 2 months of pain and extreme hard work and was finally created to be the most expensive pair of shoes in the world. I personally like this one more than the original version and every other version.